Notice of Electrical Construction Apprenticeship Opportunity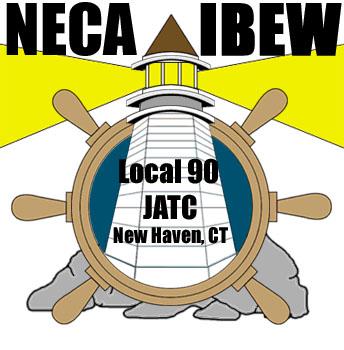 N.E.C.A. & Local 90 J.A.T.C.
2 North Plains Industrial Road
Wallingford, CT 06492
Tel. (203) 265-3820
Fax. (203) 265-6875
NOTICE OF ELECTRICAL CONSTRUCTION APPRENTICESHIP OPPORTUNITY

TThe National Electrical Contractors Association & Local 90 Joint Apprenticeship Training Committee will be accepting applications from interested candidates. The J.A.T.C. intends to select candidates for placement during the next twelve (12) months, provided the working conditions continue to improve in the territory.
To qualify for consideration, applicants must meet the following requirements:
EDUCATION: High School Graduate - One year of Algebra with a passing grade.
Official Transcript required.
APTITUDE TEST: Math Evaluation Test - Given by the JATC
NJATC Aptitude Test - Given by the JATC
Applications by appointment will be available at the I.B.E.W. Local 90 J.A.T.C. Office, 2 North Plains Industrial Road, Wallingford, Connecticut from Monday through Friday, beginning March 1, 2021, between the hours of 10:00AM to 4:00 PM (Closed 12:00 to 12:30).
All applicants are obligated to return a copy of their official high school transcripts or GED no later than 30 days after completing an Application.

NECA & Local 90 JATC
2 North Plains Industrial Road
Wallingford, CT 06492

The JATC will notify qualified candidates as to the date, time and place where they will be interviewed for rating on such factors as reliability, cooperation, interest, attitude and judgment, as well as other personal traits.

The recruitment, selection, employment and training of apprentices during their apprenticeship shall be without discrimination because of age, race, color, sex, religious creed, mental retardation, marital status, national origin, ancestry or physical disability, including but not limited to blindness. The sponsor will take affirmative action to provide equal opportunity in applicable laws and regulations. A good faith effort will be made to attain specific goals for female and minorities.

The Connecticut Labor Department has established complaint procedures for applicant and apprentices under existing regulations.

Territory:
Ansonia, Berlin, Bethany, Branford, Bristol, Cheshire, Chester, Clinton, Deep River, Derby, Durham, East Haven, East Lyme, Essex, Groton, Guilford, Haddem, Hamden, Killington, Lyme, Madison, Meriden, Middlefield, New Britain, New Haven, New London, Newington, North Branford, North Haven, Old Lyme, Old Saybrook, Orange, Plainville, Plymouth Township, Wallingford, Waterford, West Haven, Westbrook and Woodbridge.